I have been watching "Feud" on FX every Sunday night at 10. Jessica Lange and Susan Sarandon play Joan Crawford and Bette Davis during the filming of the classic "What Ever Happened to Baby Jane" and beyond. It takes place mostly in the early and mid 60s, and the finale, after seven one-hour episodes, is up next.
After some lackluster moments, and too much detail that I had to stay up too late for (I don't DVR), it drifts beyond to the late 70s with interviews with the women who knew and worked with them played by the likes of Kathy Bates and Catherine Zeta-Jones. (Also, too many commercials.)
Of course, it has to be somewhat fictionalized, but according to all the press on the program, it is mostly true. And very dramatic. And very Hollywood diva.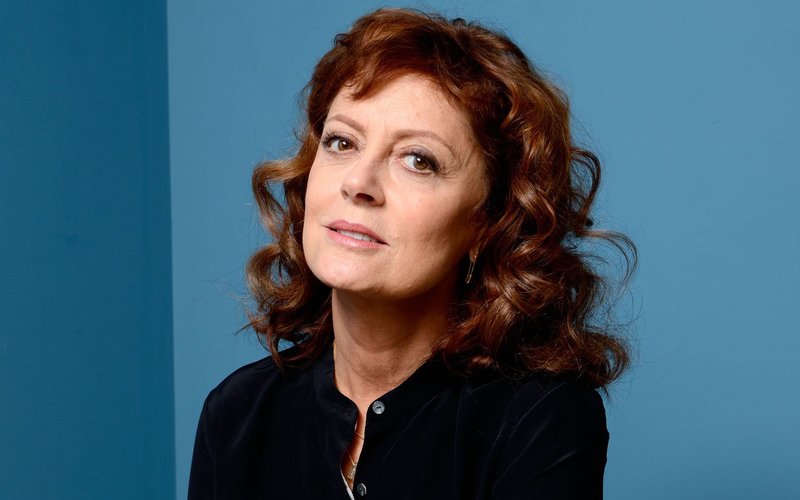 Susan Sarandon as Davis isn't terribly convincing. Yet, she replicates the bug-eyed look, the cigarettes, the slacks, her abrupt way of ending a sentence, and her unassuming New England home, and...did I mention the cigarettes? And then, there's the variety of the hairstyles from the times—pageboys and bangs and even the baby doll, platinum curly wigs for the making of the Baby Jane picture.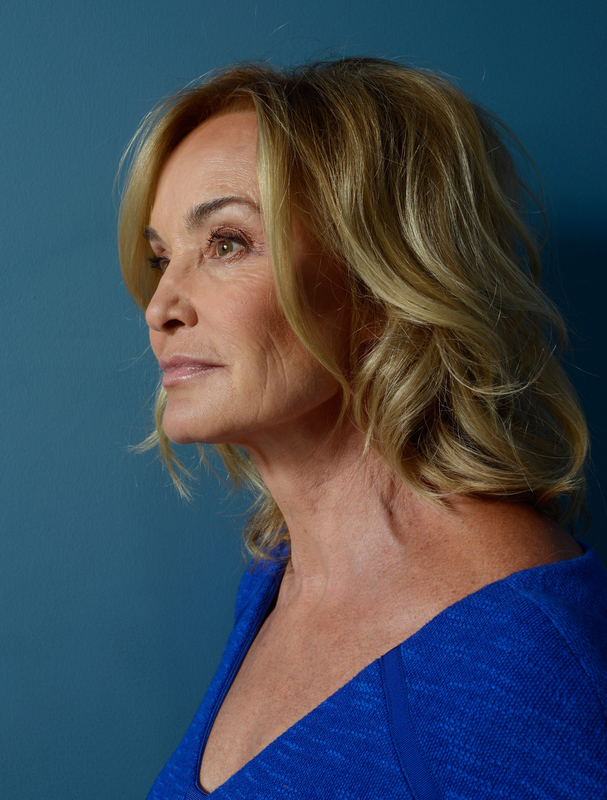 Jessica Lange seems better as Joan, in a hairdo that's mostly upswept and often looks like clubs you see on playing cards. A sort of puffed-up three leaf clover in jet black surrounding her head. She's a great actress and it appears a favorite, in her later years, of Ryan Murphy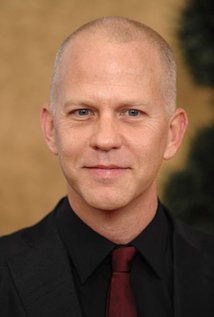 the creator, writer and director of "Feud".
He first found and booked her for his "American Horror Story" series a decade or so ago. (I've never seen any of it.)
Oddly, it was Davis's Baby Jane who got the Oscar nomination for the film and not Joan. I say oddly because for my money, this time around, it will be 'Joan' and not 'Bette' who will receive the Emmy nod. And, quite possibly, another Emmy win for Jessica.
This "Feud" takes me to the real event: the 1962 movie, black and white, wherein the Davis character, "Baby Jane Hudson",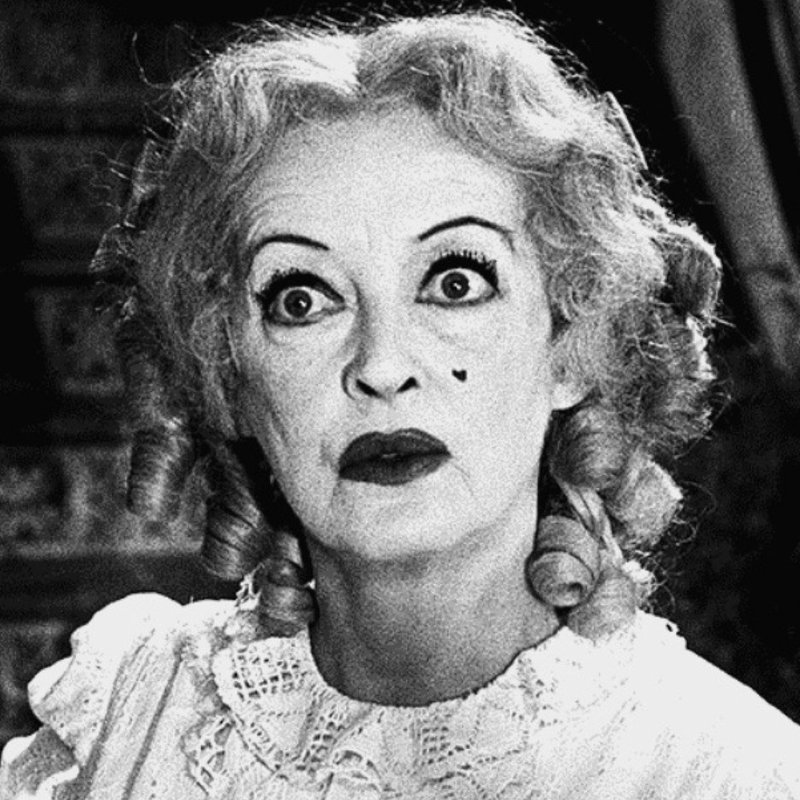 is rapidly slipping into complete madness, torturing and starving the wheelchair-bound Crawford character: Blanche.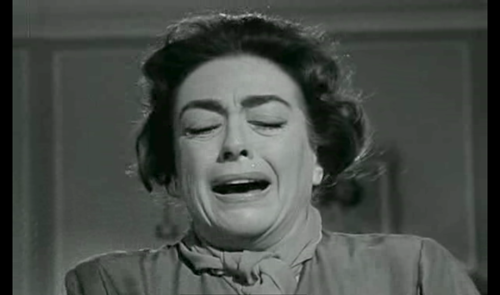 "You wouldn't do these awful things to me if I weren't in this chair!" she rails at her sister in in one scene.
"Butcha ARE in the chair, Blanche! Ya ARE!"
Some years before, Crawford was beautiful and a star. She got her own Oscar for the stunning "Mildred Pierce". But Davis was making classic film after classic film, winning two Academy Awards, nominated for eleven (and, in my opinion cheated out of a couple more for "All About Eve" and "Baby Jane").
I came late to Bette. After "Jezebel" and "The Petrified Forest" and the role where she had the high forehead of Queen Elizabeth. The 1930s Bette Davis I know little of. It was "Now, Voyager"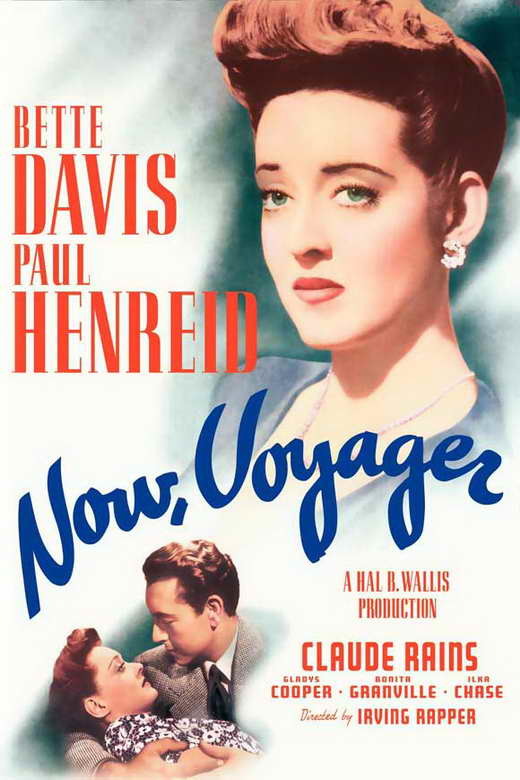 in the early 40s, that got me hooked. My Mom was a big Bette Davis fan and we watched it together on television in the early 60s. In the early part of that movie, her relationship with her mother, sneaking cigarettes in her bedroom, and those eyebrows! is fraught with some venom and repression, until the mean Mom (the marvelous Gladys Cooper) dies. The daughter then enters therapy and soon after, emerges from the top of a ship docking in Europe with her new, elegant look, her face revealed from under a hat the size of a large dinner plate. Brows tweezed, dressed to the nines, in spectator heels, she is indeed new and improved, but also appears shaky and vulnerable. How Davis can express so much in a look—those Bette Davis eyes…
The rest is romance. And cigarettes, out in the open. With the famous Paul Henreid scene where he lights two cigarettes at once and hands one to her.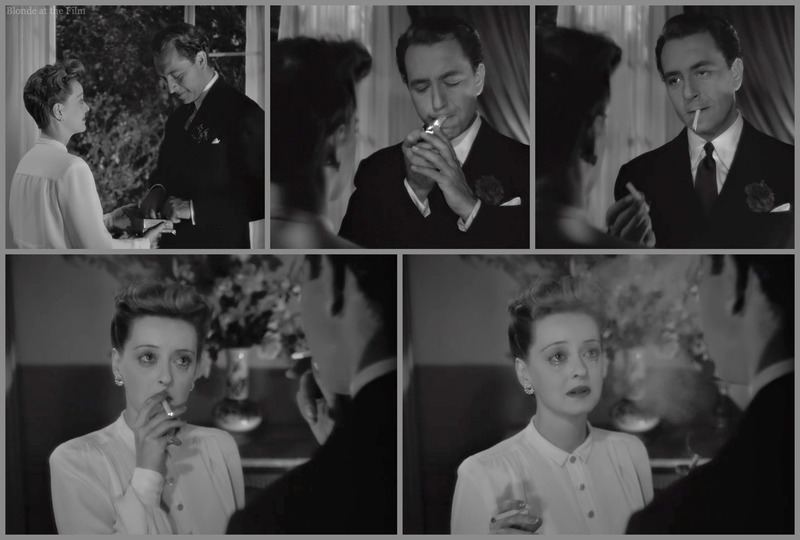 She says, as the film ends and the camera pans the skies: "Let's not ask for the moon when we already have the stars."
As a teenager, and a naïve one at that, I was mesmerized by the idea of a woman falling in love with a married man. (As a married man myself now, I understand.)
"Dark Victory" was around that time, too. A bit earlier in 1939—the year of "The Wizard of Oz" and "Gone With The Wind". I've seen that on tv a bunch of times, marvel at the beauty of her best friend, played by Geraldine Fitzgerald,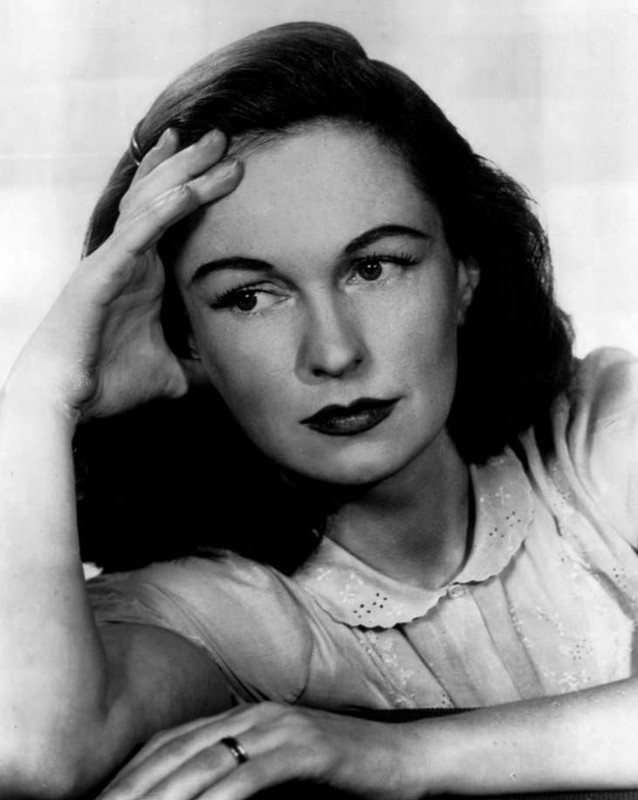 but Davis was pure Davis in it—independent, strong, lively, (then, later, with a dark illness—prognosis: negative) with her clever caps covering scars from her brain operation. That role really gave her her walk and her bravado, and always, the twirling cigarettes.
Then, for me, came "All About Eve". I don't remember the first time I saw it (I should!) but sometime in the 80s I bought the video and sometime in the 90s, the dvd. I have seen this film over a hundred times—sometimes just half of it, or part of it, as I fell asleep, yet still, it always feels fresh.
There were many scenes in that movie beyond the famous: "Fasten your seat belts, it's going to be a bumpy night" at her party in that Edith Head dress with the brooch by her breast.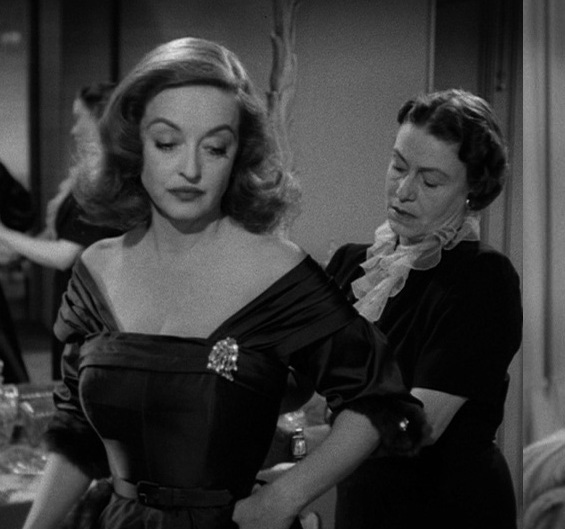 There are too many perfect Bette performances in that film to get into here. And also, great performances by others: Thelma Ritter was drop-dead droll in her role as Birdie, Margo's maid and close companion. Marilyn Monroe did a very sexy cameo, and George Sanders was a bitch of a critic. I loved him with his sneers and his long cigarette holder.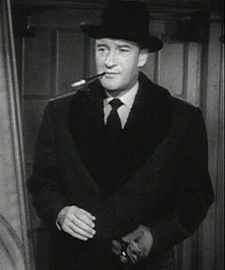 There isn't a line or a scene or a movement in that movie that I don't know cold and yet, there are two things at the very beginning of the film that I have a hard time with. Bill Sampson—the director character—Gary Merrill, who would become one of Bette's three husbands, enters Margo Channing's Broadway dressing room on his way to Hollywood and says: "Throw that dreary letter away" and I never got the point of that or what the letter was even about. And then, shortly afterwards, there is a combination of conversations that are interminably indecipherable. Margo is talking, the playwright is talking (the handsome Hugh Marlowe playing Lloyd Richards) and I never get to understand the questions they are asking of Eve Harrington. (Eve is Anne Baxter.)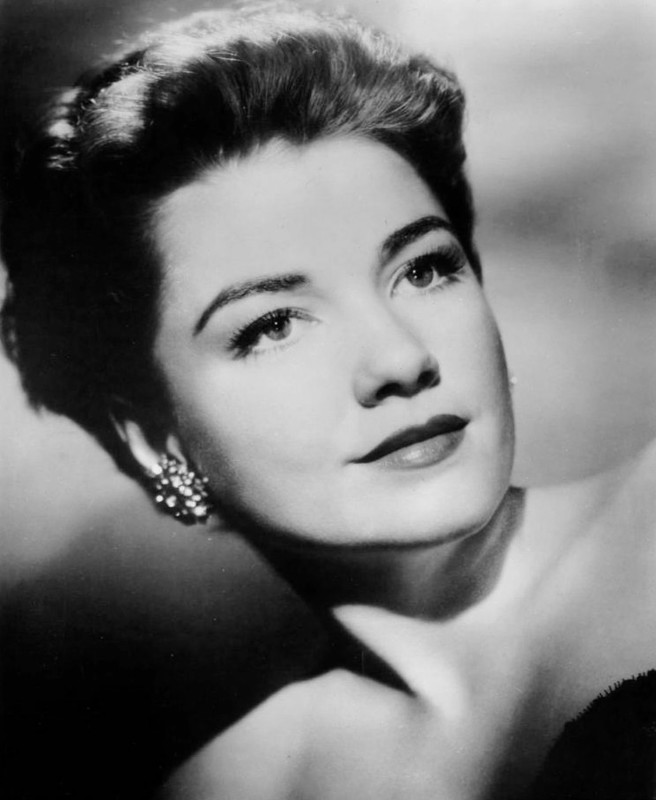 Eve answers them both, one at a time, and still no clue to what they have asked her.
A hundred times, I've seen it. Maybe two hundred times. And every time, I marvel at Bette Davis's performance.
And then: Baby Jane. No words.
Unfortunately, it cast her from that point on, as a lunatic and a killer in future films in which she faltered some: "Hush Hush….Sweet Charlotte"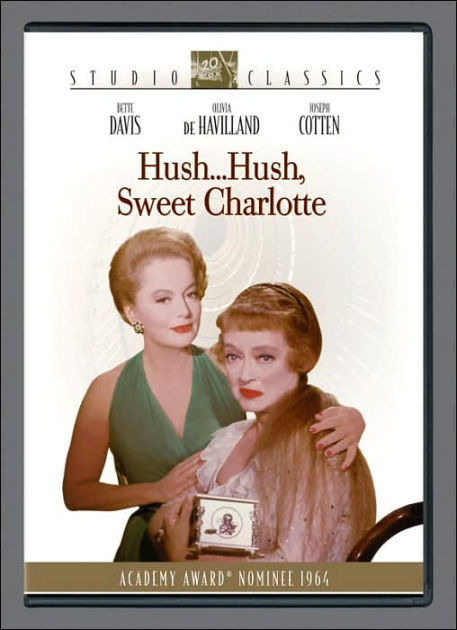 by the same Baby Jane director, Robert Aldrich, was not nearly as good. "Dead Ringer"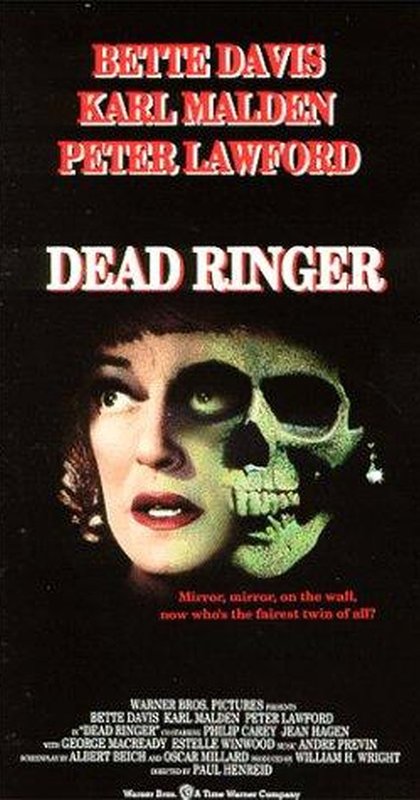 too, a disappointment. Joan Crawford also went off the rails afterwards with "Straight Jacket"
Nowadays, there are other fabulous female actresses: Jessica Lange happens to be one. Meryl Streep, of course. Cate Blanchett. Julianne Moore. Annette Bening. Even the new-ish Sarah Paulson.
But no one, absolutely no one, beats Bette.