I first saw Streisand, before she might have been even known as Babs, in Vegas in 1969. "Funny Girl" was behind her; "Yentl" some years later. But she was a star even then, with her nails and her empire-wasted gowns. I remember the audience at that time was not so wild about her—husbands dragged from the gaming tables, bored. But wives seemed swept up. (Like her hairdo.)
Of course, she sang People. It might have been only hit at the time. And Happy Days Are Here Again made immortal by her duet with Judy Garland, another diva, long gone, clearly, a more drug-addicted diva than Barbra, even if she did openly smoke a joint at a concert decades ago.
At 21 (me) and 27 (her) I was already a fan. I had listened to the album: "My Name Is Barbra" in m bedroom at my parents home in Brooklyn, every single night for a year, staring at the album cover, one side a black and white picture of her as a five-year-old, the cross-eyed look, the nose, a bow in her hair. And, on the other side, modern-day and very voluptuous, lying on her side, in a slinky green gown.
I was mesmerized by every song she sang on that album: Where Is the Wonder. Jenny Rebecca, I Wish I Were a Kid Again.
Her CBS-TV specials were also part of those 1960s, sponsored by "Chemstrand". The Second Barbra Streisand Album was also out containing Cry Me A River, He Touched Me. The liner notes—remember liner notes? written by some famous composer—Jule Styne? Harold Arlen? with this passage: This young woman, a mere 20, has a stunning future ahead of her. And, remember, I told you so.
How prescient.
I saw her again in DC in the early 90s. She was rouoghly 50 at the time and had a thousand more songs to choose, including Broadway stuff.
She's 74 now. Blond. Botoxed. And bigger, in more ways than one, than ever.
I saw her recently in Fort Lauderdale. That would be the third (and possibly last) time I would see her live.
When she came to the Barclay Center in Brooklyn in 2012, I was too distraught and distracted (and depressed) to attend that concert, a subway ride away from my West Village apartment. I was recently let go from a job some months before and I was trying to settle into retirement with great difficulty, but in deference to missing that performance, that night, I watched "Funny Girl" on dvd.
In the summer of 2016, she came back to Brooklyn. I missed out on that one because I was summering in Provincetown.
But there was no way I was going to miss her this time around, even if it was in Florida and I am living in Manhattan.
My husband, David, loves Miami. I love Babs. We book a trip for a three-day weekend in early December, and buy two tickets. The seats were $1,250 a pop! On the floor of the B B & T center, a sports and entertainment arena in Sunshine, Florida, 25 minutes from Miami. As an Amex platinum card holder, they were discounted to a mere $900 each, And they were great seats, on the floor in a stadium that seats 18,000.
And so we flew. And there we were. And there she was, opening up to wild adoration and applause in a black pants suit, nothing like Hillary would ever wear, this was more sheer and dotted with sequins.
She started out with The Way We Were and brought the house further down. She likes to talk, too—I know from her previous performances that I have on dvds, and she is pretty political. But she decided, in Florida anyway, post the election, to not talk about what's-his-name, newly elected. She made a zipping motion with her hand across her mouth.
But she had plenty of political agendas to impart and mostly by videos behind her spanning decades of racial divides, gay pride marches, politicians, woman's rights and heart health issues, wars—Viet Nam and elsewhere, while she sang Being At War With Each Other.
She talked about climate change, the absence of bees and butterflies as she sang something from her "Butterfly" album (not one of her biggies). But she basically gave the crowd, all 18,000 of us, everything we wanted to hear.
She did a quick medley of her "hip" period, as she referred to it, including Stoney End and the Donna Summer duet: Enough Is Enough. A backup singer (one of three African American women) joined her front and center while ordinarily the three of them were way up top and far behind the orchestra.
Her voice cracks, but her notes last an inconceivable amount of time without a breath. But the big thing about Babs is the way she performs a song. Those of us who know her and love her know that she really wanted to be an actress and not necessarily a singer. Well, I for one am glad she found her voice and uses it to not only reach incredible heights of no other singer before (OK, Sinatra), but to perform it. To inject it with nuance, gestures and emotions like any fine actress. This is one master (mistress?) of phrasing and as I recall, I think it was her mother quoted as saying: She never sings a song the same way twice!
And she doesn't.
Not even after what has to be many thousands of times singing People. She had a long-winded comment before she sang that song, how Bill Clinton has said that no matter who we are, what gender, what color, what nationality, in 99% of the cases we are all the same…People.
Her nods to Sondheim always slay me. She sang one of his songs that I never heard her do before, a favorite: Losing My Mind from Follies. I pretty much lost mine as she sang it.
Don't Rain On My Parade and Papa, Can You Hear Me really ratcheted up the applause, the cheers, the "We Love You Barbra"s!
After a brief intermission, she came out in a shimmering grey chiffon gown, long and twirl-y, with a stripe of crystals that hung from behind her neck all the way down front to her silver shoes. She twirled and darted back and forth around the stage as she sang songs from "Funny Lady": How Lucky Can You Get, Isn't This Better? which she introduced by saying "my good friend Liza (another great daughter diva) sang this during a tribute to me". She named Kander and Ebb and Marvin Hamlisch and Marilyn and Alan Bergman, composers and lyricists and geniuses.
Her album covers, her directing efforts, her heroes in fimmaking, directors and cinematographers, she goes back to even William Wyler, who she called Willie, and she still talks about her crush on Marlon Brando. All of this, all of these people, appeared behind her in videos. Including a duet with video, with Anthony Newley: Who Can I Turn To? The videos were huge behind her. But no bigger than she, who is small in stature, but way larger than life.
She was magnificent.
Two nights later, it was Diana Ross,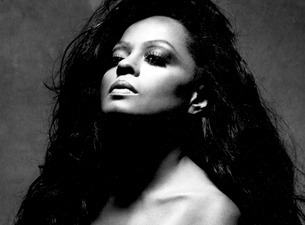 or as an early biography of hers was titled: "Call Her Miss Ross." Actually her parents called her Diane, as she was born and raised in the projects of Detroit. She's just a few years older than me (72 to Babs's 74 to my 68).
Diane became Diana. I guess she felt Diana had more cachet, and was more mellifluous to the ear, the lilting third syllable, more fun than the brisk Diane.
At first, she was really just one of three young black girl singers called the Supremes who burst onto the music scene in 1963—right around the time Streisand was performing in "Funny Girl" eight times a week.
1963. The Beatles, those Liverpool exports, went straight to Ed Sullivan. One Sunday night, John, Paul, George and Ringo, with their ooohs and their bangs. The next Sunday night, Diana Ross, Mary Wilson and Florence Ballard, in sequins and teased hair that flipped at the end.
One can (I can) roll out their early hits in sequence 50 and more years later: Where Did Our Love Go, Baby Love, Come See About Me. And through a lot of the 60s, many, many more number one hits until a couple of things happened: Florence, deemed not pretty enough by Berry Gordy, the maestro of Motown Records, but who actually had the best voice, was let go. Cindy Birdsong replaced her and pretty soon the group changed their name to: Diana Ross and the Supremes, cementing the beginnings of her diva-ness.
Then, shortly after that, she was a solo act. Mary Wilson shuffled off to her own far less successful solo career after she even tried to resurrect the Supremes name, this time she being the lead singer. They had one small hit: Stoned Love.
But back to yesterday.
Diana Ross was billed to appear at Alice Tully Hall in Lincoln Center as part of a tribute to the fashion designer, Carolina Herrera. 35 Years in Fashion, it was billed, and Diana was scheduled to perform.
And so she did. In a gown that was a burst of black ruffles and feathers and frou-frou. Layers, they turned out to be and it was hard to tell where the dress ended and her hair began—her hair a kind of full, circular boa, or more like cotton candy, if cotton candy could be jet black. (Licorice-flavored?)
She's known in her own billed performance to change clothes after practically every number. This was different. She kept on the same black outfit but eliminated parts so it became less of an encumbrance and more of a gown, and she looked, from my seat in row M. almost as thin as she was on Ed Sullivan way back when.
Though not especially a gay audience that she would generally attract, there were plenty of fashionistos on the scene. She opened up with I'm Coming Out—maybe she just meant that she was coming out to perform. She then drifted, gorgeously, into the Supremes and early Motown stuff: My World Is Empty Without You, Ain't No Mountain High Enough. And, amazingly, as I am writing this at a bar, You Can't Hurry Love plays just as I am writing about her singing it! Classics all. Ubiquitous, too.
Once, in 1986, I was exercising at Canyon Ranch in Arizona and she was also a guest. I was on a Stairmaster and she walked into the room, her hair appearing before the rest of her. I Hear A Symphony was playing as she entered. She looked up and pointed to a speaker. "Oh. The Supremes", she casually said.
But back to December.
In a nod to "The Wiz", a flop of a movie from the brilliance of the theatrical production, starring a teenage Stephanie Mills as Dorothy. Diana played Dorothy in the film, at 40, if she was a day, and she sang Ease On Down The Road.
And one maybe forgets that she also had quite a bit of hits during the disco era: The Boss, which she sang. Love Hangover, which she didn't, but she blatantly stole Gloria Gaynor's I Will Survive and made it her own.
She certainly has survived. A million hits, some movies, an Oscar.
Like Streisand, a million hits, some movies, a couple of Oscars.
Each one of their careers spanning six decades. Six decades of diva.
It was madness. Sheer madness. Speaking of which, come March, more madness. More diva. Seeing Bette Midler in "Hello Dolly".