I wrestled with calling this piece: "My Un-Hamptons Summer" and even considered it as a sub-title, but thought otherwise. Blogs don't need sub-heads. They're usually (but not in this case) short pieces. The title should be short, too.
But since I spent about 35 summers (and years) in the Hamptons, I thought I needed a reference to where I spent other summers prior to Provincetown. I recently sold the house in Amagansett, without once looking back in the rearview mirror at the immense traffic jams or the throngs thronging to Montauk.
I have written, some would say exhaustively, about my Hamptons experience in my occasional column in the East Hampton Star. You can go to books on this website and read all about it. Or, looky here!—did I actually use that expression?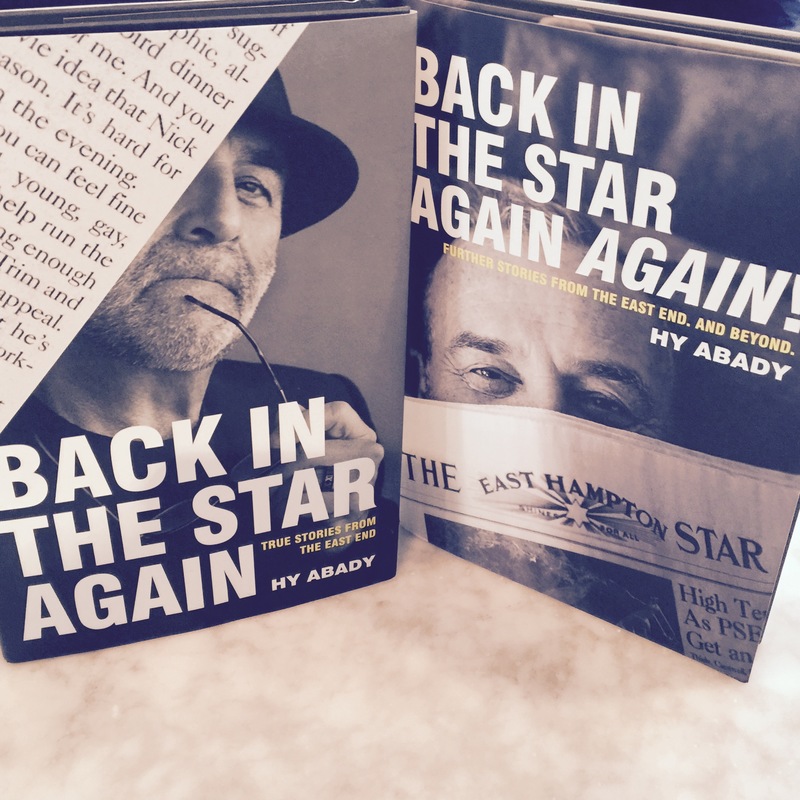 But this is a different story. This is Provincetown! This is, whoa, Ptown!
I had been there in the mid-70s when I had a boyfriend who lived in Boston, but it's a blur. A boozy blur, further blasted by drugs. It was the 70s and I was young and invincible. Being older and very vincible (67 years old and counting) I can see clearly now. Then, all I remember is the beach beyond the dunes and my new romance with Jim.
And then there was a President's Day weekend in the early '90s with my much longer-lasting boyfriend, David (28 years together and counting), when we drove there just thinking: what the hey! since our Hamptons beach house was still unheated and we looked for things to do on a weekend. That particular freezing weekend we saw 'The Village People" at Town Hall, right in the center of town.
That was then. Now is 2015—me, retired with plenty of time on my hands and a partner who can work remotely, we decide to spend five weeks in Provincetown. In a rental condo in what is known as the West End of town; not knowing at all what to expect, but giddy with some sort of expectations because…well, we were, and we ARE, gay and we know that Provincetown is trés gay. And beach-ey and beautiful. And close enough to drive from NYC.
We drove on a Wednesday afternoon in late July. It took forever. Six hours or so, actually, close to what it used to take to drive to Amagansett on a Friday afternoon—well, I exaggerate, but five hours was not unusual. I used to think—I could fly to London in the time it took to drive to East Hampton.
But enough about the Hamptons.
Provincetown!
The lovely two-bedroom condo—a house, really, part of a complex of four such houses, half a block from the busy-ness of Commercial Street, the town's main drag—and I use the word drag not arbitrarily, as we will get to later—was perfect. New, stainless steel kitchen; David cooks and is a brilliant cook, and we were expecting guests to visit for a week.
Not knowing what to expect, but as the next morning came we set out to see what we had paid $3,000 a week for, we were bombarded by everything!
First thing I noticed, theatre queen that I am happy to be, were all the overhead banners hawking entertainment!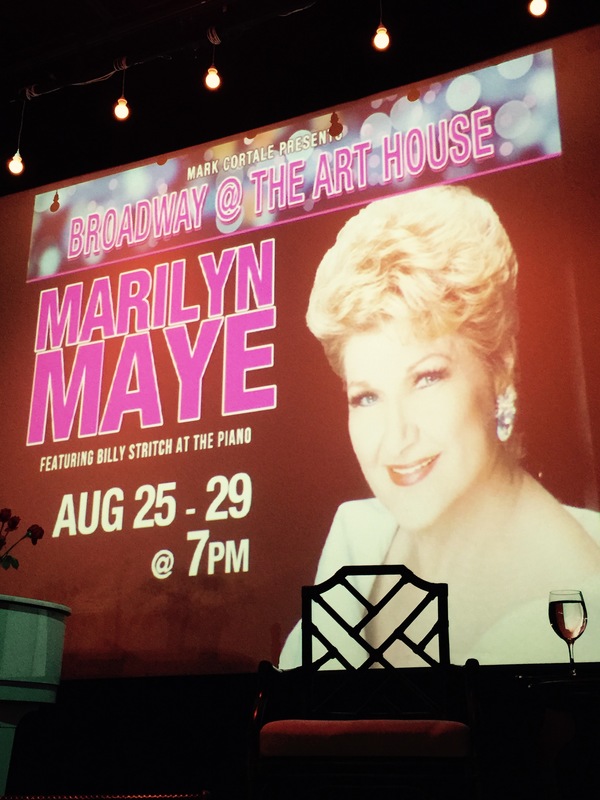 Bernadette Peters, Shirley Jones, Sarah Jessica Parker with Matthew Broderick, Neil Patrick Harris and David Burtka, Vanessa Williams, Marilyn Maye, David Sedaris, Margaret Cho, Roslyn Kind (Babs's half-sister, just about half as talented).
And the men!
Everywhere, shirts off, holding hands at any age—bodies on bicycles, tight shorts and bathing suits the size and tightness of thick rubber bands. Everywhere, all day and all night, along Commercial Street.
Forget Fire Island Pines. This is gay life on steroids! (Well, maybe that's what you'd find in the Pines, too…)
And no wonder people are drawn to Ptown. The constant and unexpected views of the water, the expansiveness of untrammeled and unspoiled and un-built-up dunes—quite different from the Amagansett dunes.
Water, water, everywhere. Men and men all over the place.
And so free! And so friendly.
In Ptown it is: "Hi! Where are you from? How long are you staying?"
It's hard to get used to as a New Yorker, I always think people who are strangers and friendly are after something, but Ptown is the real deal (I hate that expression) and so many people are so happy being here on vacation, mostly everyone for a week; condo rentals go from Saturday to Saturday, We opted for five of those Saturdays to Saturdays.
And wasted no time to see the real Provincetown that started at a place called "The Boatslip"…
The Boatslip is a motel, looks like it has seen lots of sleaze, and in need of some repair, but that aside, it is a waterfront collection of one-bedrooms with views of a pool and the Provincetown Bay beyond. You don't have to stay there to take advantage of the pool and the bay—For $10, you can rent a lounge, $5 more, a towel—but you can bring your own. Towel, that is.
It has a bar and wrap sandwiches with "Cape Cod Potato Chips"—love 'em. And every day, from 4 – 7, there is a tea dance. Tea dances started, actually, in Boston, the city very close to Ptown, around the time of the Boston Tea Party. I could be wrong, but it sounds right—check Google. But today, it is something else entirely. Here, it was men, sexy men, half-naked men, men in makeup and wigs and stilettos…
and lots of lesbians, too. Dancing and drinking and laughing. And drinking. I wondered where they will go at 7:05, when it all quickly shuts down, but there is an after-tea 'club' catering to those who want MORE. (Don't we all?)
It seemed to me that the crowd at the Boatslip, aside from the occasional troupe of drag queens…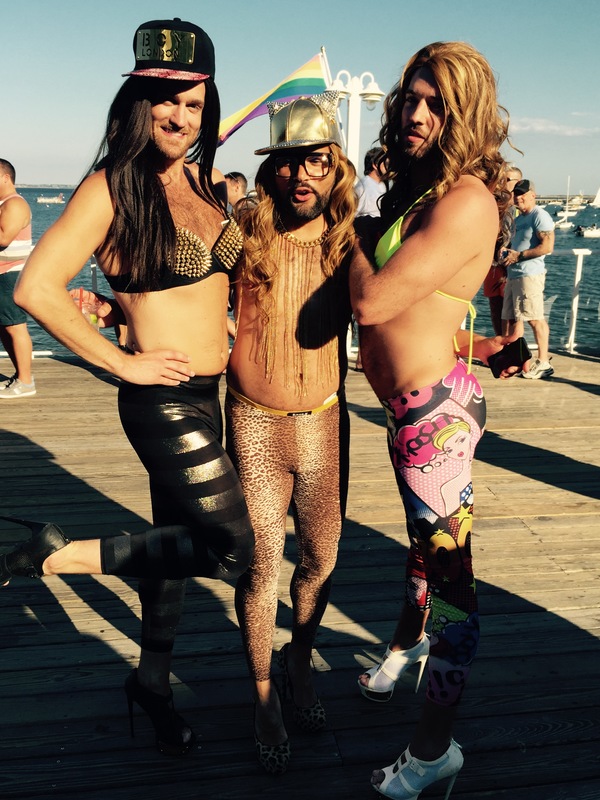 or more inclusive of them, felt more like buddy groups, friends, guys, maybe as many as six together, probably sharing a couple of rooms to be able to afford their week away.
Ptown felt less flush than Fire Island or, certainly, the Hamptons. Things were cheaper, drinks in particular. The tea dance charged $10 to get in, but you could buy a weekly pass, reduced from $70 to $40. Boston is less expensive than New York. And most of the people seemed from nearby Boston and they complained about the $95 round trip high-speed ferry ride. Guerney's, in Montauk, last time I'd been there, summer of 2014, charges $75 for a lounge (for a day) and a towel if you're not a guest of the hotel.
The accents on Ptown, the dropped 'r's, were dropped more often than guys dropped trou—another story, or actually, hang in there, later in the piece…
There are very few pools in Provincetown. The Boatslip had one, and also access to the chilly bay, so we spent a day or two there (steps from our rented condo) getting our bearings and just laying on their huge deck --- more about that deck later, it has to do with dropped trou, in fact, what goes on below. "Under the Boardwalk" as it were, and as it is. Later.
We had our vodkas—at noon, honey, we are on vacation. Actually, David wasn't on vacation but free for three day weekends and took a week off towards the end of the month. We had our vodkas and our burgers and
our wrap sandwiches, $6 and $5 each, and left to see the town.
You can walk on Commercial Street for about a mile and see three different and distinct sections. The West End, the higher end, features homes with manicured lawns that stretch out to the water, Victorian cottages, small, but perfect with the occasional rainbow flag, tastefully displayed, and guest houses with the sparkling Provincetown Bay inches away in the backyard.
Midtown is where the action is. It houses the Town Hall, a stately presence set back from the street whereas everything else is right there; there are barely any sidewalks along Commercial and parking is mostly not allowed. But there are bicycles. Are there ever bicycles! A barrage of bicycles.
Mid-Commercial also has the "Crown and Anchor" another hotel with pool and, also, a couple of theatres and a piano bar, bustling with boys (men) on bicycles, men (boys) with no shirts on. And, also lesbian couples some young and pretty, some that look so alike, they may even be sisters. Aunt Jane. Aunt Nancy.
You can't tell if people are flirting, or planning to hook up, or just passing the time of day, licking an ice cream cone, holding a bunch of shopping bags, wheeling a stroller. Well, I couldn't tell; we weren't looking for sex--I was with my life partner. We have a committed relationship! even if it can be also construed as open.
There are lots of shops and restaurants and bars midtown. And yet, unlike in Key West (once and still a gay resort town, end of the line in a different state, like Ptown, like Montauk), you are not allowed to leave any establishment with a drink. Coffee, cola, yes—but who knows what undoubtedly gets slipped into those plastic cups? Did I mention this is a drinking town? Well, it is. Big time.
The East End is finally more of the artistic part of town. Sure, guys still walk up and down half-naked, but the streets are lined with galleries. Serious art! Thousands of dollars! And the Provincetown Museum is there, a small space filled with local work. Quiet and reflective amid the hubbub of everything and everywhere else.
We were invited to a cocktail party on the East End one night. A friend of a friend. The home looked charming, cozy and dark, early 20th century furniture and beautiful artwork, but just beyond the kitchen, a doorway to the great outdoors—was that magnificent Provincetown Bay, as vast as an ocean, right there, past a garden and a deck.
Colored lights lined the bar and food area. And below us, under the slats of the boards, we could see the tide rushing in, surging and splashing. The vista was so immense after the snug interior of the house, you almost forgot that you had just left a low-slung, two bedroom cottage and suddenly you could be a Kennedy on Hyannis Port. (A different Cape Cod town, but with the same views, same lobsters and oysters.)
John Waters was at the party, looking exactly like himself, sporting a starched jacket and with his pencil moustache turning somewhat more grey.
Michael Cunningham was there: a great writer and handsome gay guy! Those two have deep history in Provincetown. We couldn't have been greener about the place.
Green, but leaning towards bronze.
We found the ocean beaches—two of them—Herring Cove (where a shark was spotted feeding on seals!). And Race Point, the other beach, further out. Clusters of people, gays and straight, and kids and dogs. The beautiful, ice-cold and bracing Atlantic.
We had a car and loaded it with beach chairs, a bulky umbrella, huge towels and books and a cooler with some rosè wine—it got to be a real schlep, and fairly crowded. We bought a monthly pass for $60. But it was just a few bucks if you bicycled in.
In the end, those beaches proved a bit tedious, carrying all that stuff, so in a few days time, the first week rushing by, we found a bay beach that we could drive close up to and have less far to walk loaded down.
This beach, don't even know if it has a name, was all about the tides. You can go there and see salt-water puddles and wet sand for what looked like a mile stretching out until a deeper blue water and a marina appeared in the far-out distance. Next day, the water was over your head in a minute, beach chairs having to be moved further and further from the shore.
But it was less crowded. And bordered on what became our favorite lunch-time spot right there on the water: "The Red Inn."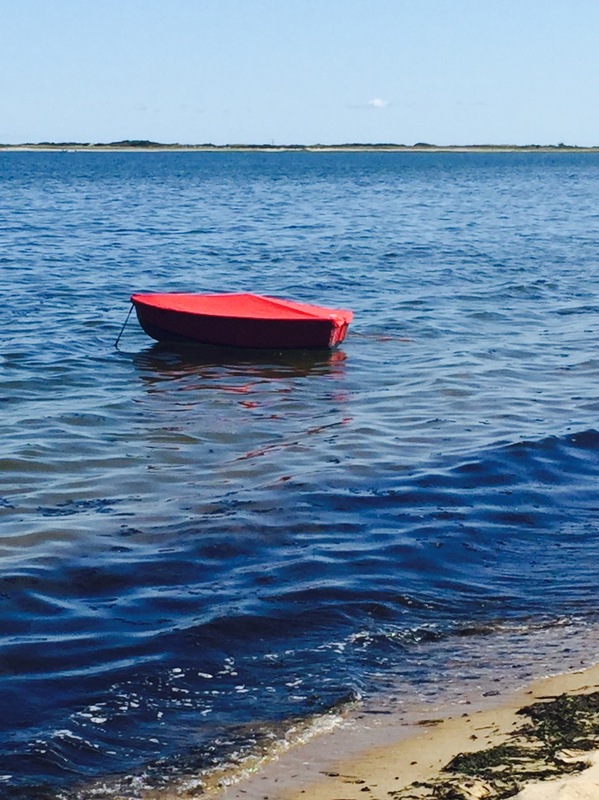 The people, the bartenders, are so friendly! The wine and booze so reasonable. Even the oysters, a buck apiece during their happy hour which starts at 2:30 and gets packed. I started going there alone while David worked most of August; the weather was just perfect kind of summer weather, sunny, not terribly hot and the breezes, the wafting smell of salt water in the air, every day a beach day.
And every night, New Year's Eve.
The drag shows! We saw four. I never had much experience with all that frou-frou, but, of course, I had seen Judy Garland and Barbra Streisand impersonators here and there.
During the day, the stars of the drag shows scoot around the main street dressed up and hawking tickets. They're basically $20 or so, and the seats are like church pews and, of course, you can drink during the shows. And take as many flash cell phone photos as you please!
"Electra " was exemplary in that she changed outfits onstage—Lady Gaga to Marilyn Monroe to Pink, but his/her Bette Midler was devoted the most time with a film running behind Electra on a pull down screen—three other Electras as Bette, her 'back-up' girls all lip-synching her new album: "It's The Girls". Her Bette was the best, the longest bits, her great songs, the sound system blasting in the small, chapel-like room.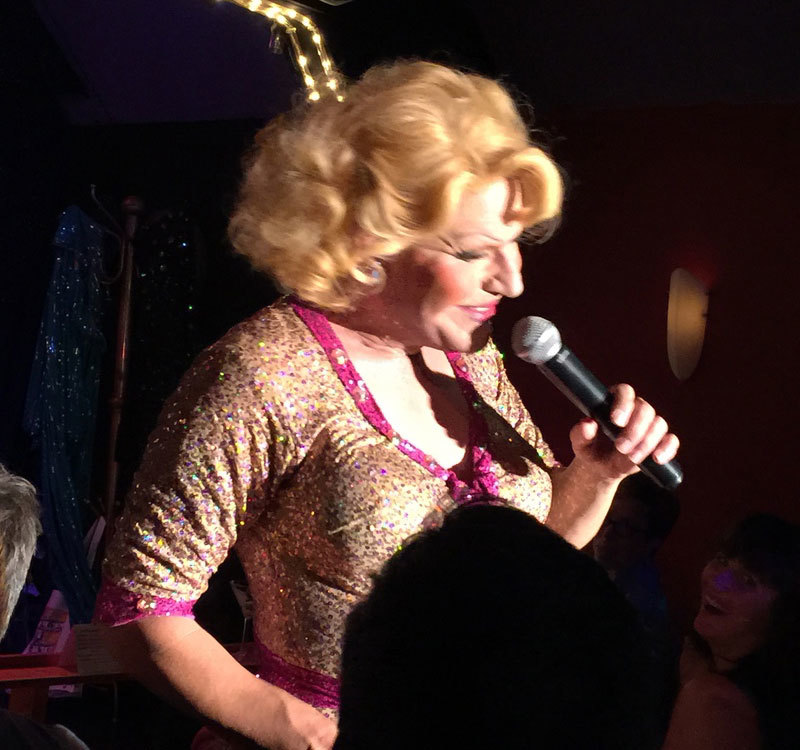 She did Streisand, everyone does Streisand and everyone wants Streisand—anyway, I do (not do it, I want it), and ended the show with the surprise of Elton John: "Don't Let the Sun Go Down on Me"—only in Provincetown did I suddenly get the sexual second half of that song title, whether it was intentional or not...
We saw that show twice. Once on our own, and once more with a couple of houseguests.
Next night: David Sedaris read from his new book and, afterwards, sat patiently for what seemed like hours signing hundreds of books that were for sale in the lobby, for hundreds of people, myself included.
And then, well, you heard the rest of it: Shirley Fucking Jones! Audra McDonald, Norm Lewis, Margaret Cho…and, oh, I can go on and repeat myself.
Some shows were sold out. Some, like Bernadette Peters, we were too late in the season for. Vanessa Williams came after we left. Folks say that there has never been such a confluence of celebrity ever over a summer in Ptown. It gave the place a whole other dimension: Broadway. A thrilling distraction from the men and the bodies.
We took full advantage.
Days turned to weeks. Every day, the glorious sun. Every night, a new star. David had to fly back to New York; I had my lunches, read a bunch of books, made some friends (mostly bartenders) and just felt my blood pressure drop to normal levels. And got darker than I ever did.
The gay sex sites are there (they're everywhere) and there are also dimly lit bars—one, still around, which Tennessee Williams used to haunt where men are on their knees but aren't praying. Merely worshiping dick.
As promised, if you are paying close attention, earlier in the piece, the Boatslip, where guys lay out on the expansive deck daily…below deck, at night, is known as "Dick Dock". Still another dark side line to the place.
Silence is golden there, except for the slurping.
But that's just one way to have fun in Ptown.
There's some phenomenal shopping—tee shirts and sweat shirts, of course. Souvenirs and summer wear and even Marc by Marc Jacobs. And so much original artwork! But I found "Loveland" in particular, a small shop run by a rustic local with roots in the New York fashion business, selling candles and art supplies, clothing and all and sundry (not crazy about that expression, either).
And the weather was beyond exceptional—except for the four days that some guests arrived, four days of clouds and some rain, interspersed with a late August parade! Carnival Week—every week is a carnival, culminating in a themed parade (Sandra Bernhard was to be the grand marshal, somehow I missed her.) Candyland, the theme. Well, the pictures say it all.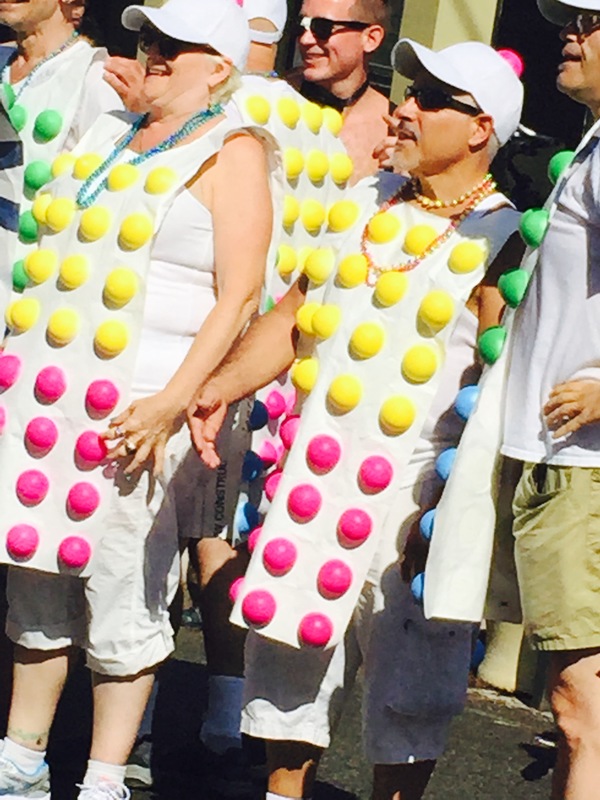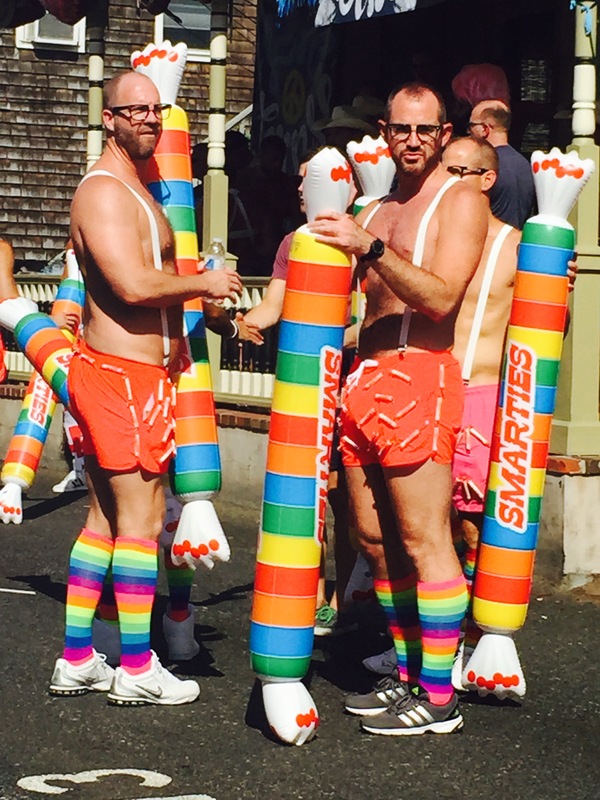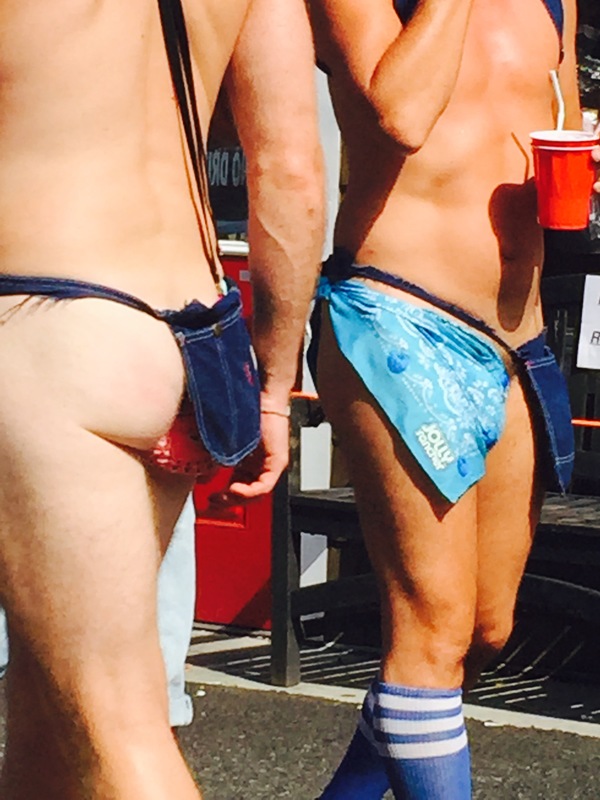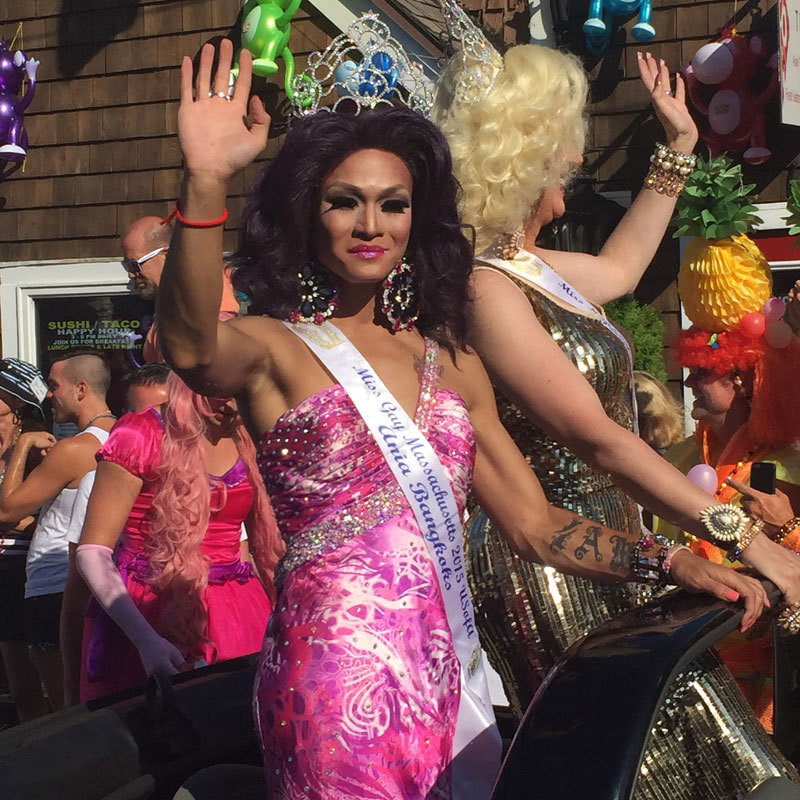 Then there was the White Party towards the end of our stay. Inventive, sexy get-ups. White harnesses and jockstraps prevailed, along with drag and wigs made of white roses and all sort of clever costuming.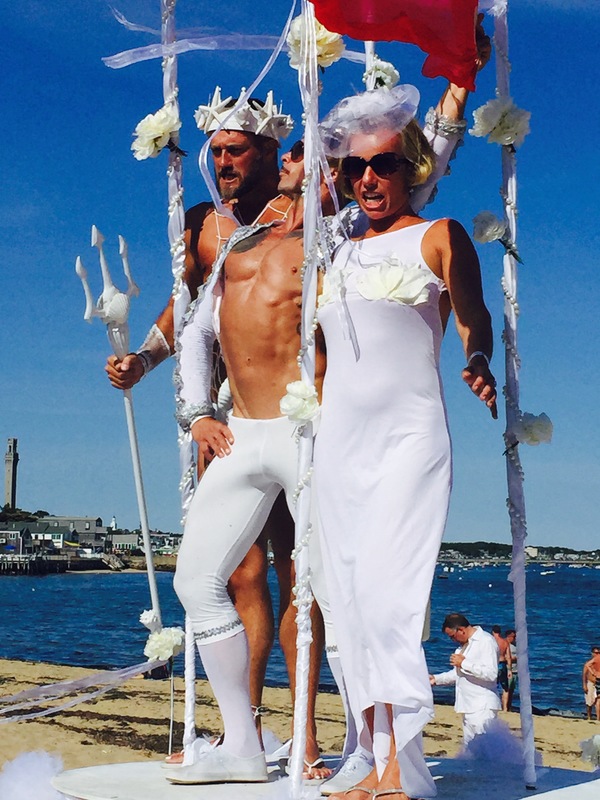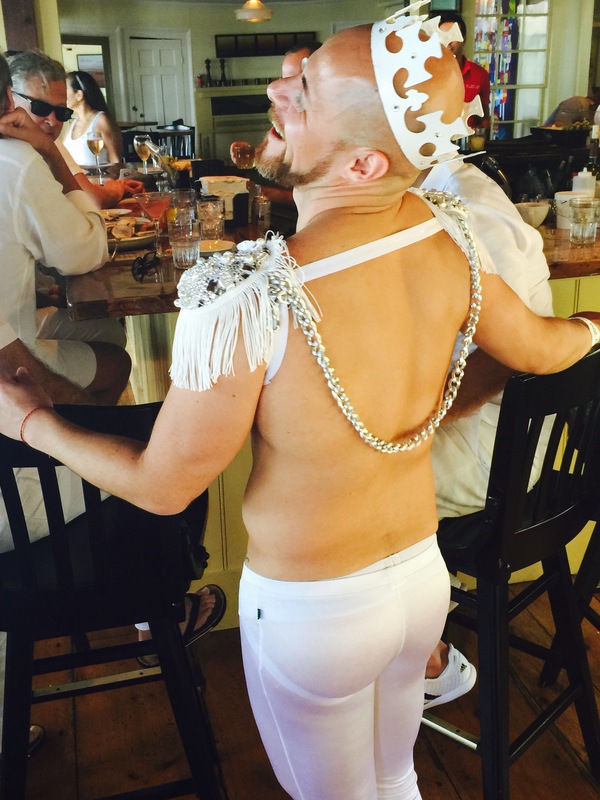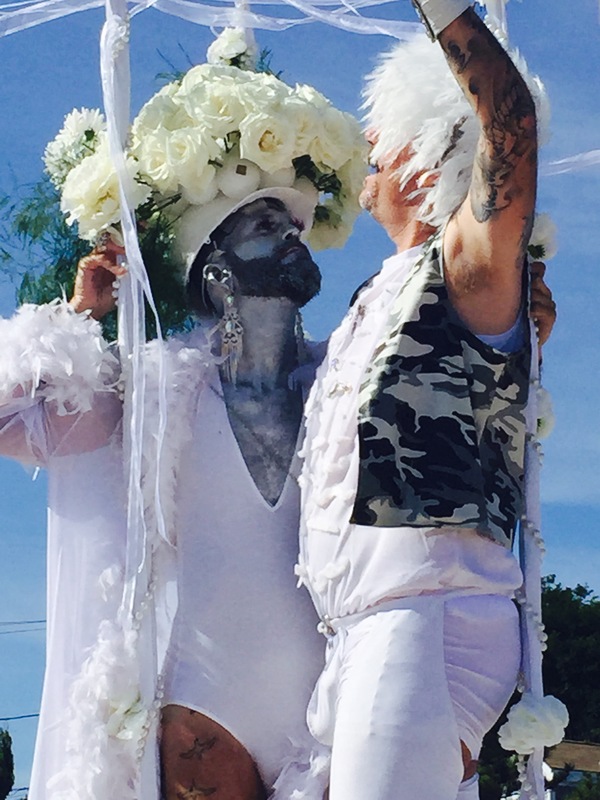 It was sad to leave just before Labor Day, the Sunday prior, to avoid the monster traffic that can occur on the two-lane highway leaving Ptown and traversing the rest of the Cape.
But, all good things must come to an etc.
I drew while there (something I hadn't done in a long time).
And wrote. (You're looking at that.)
And sat in the sun and drank more than any two people's share.
Upon arriving back to New York, succumbing to a blood test, my doctor said…"Hmmm, Hy. Your liver enzymes are somewhat elevated.
Liver be damned!
When you spend five weeks in Provincetown, surrounded by beautiful men and happy families of gay couples, and lots of lesbians, and restaurants and bars where everyone wants to know your name, I was happy to destroy a couple of hundreds of thousands of brain cells, too.
Who needs brain cells when there's Shirley Jones? And the constant reek of sex and love in the air? And, mostly, the happiest people you can come across on their precious one-week vacations.
Who needs a perfect liver when there's a Provincetown to go back to, featuring Audra McDonald and David Sedaris?
I will gladly sacrifice a bit of liver and a bunch of brain cells for another five weeks in Provincetown, come summer 2016.